Eddie: The Road to Triumph with Goodwill and AbilityOne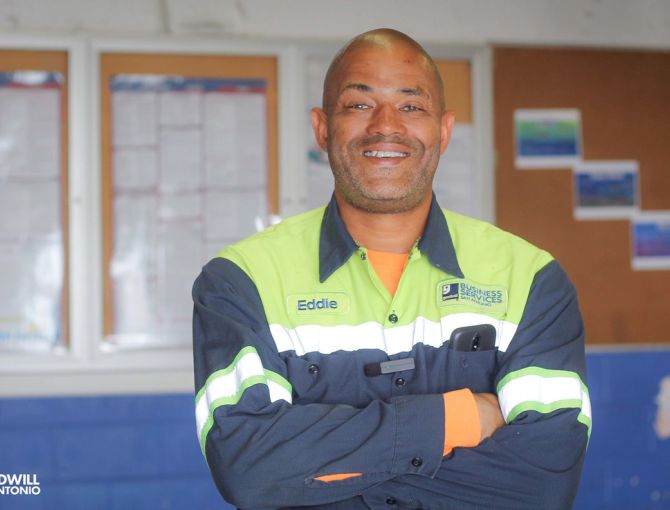 Adversity often leaves individuals disheartened and struggling to find a way forward, but Eddie's  story stands as a testament to the transformative impact of organizations like Goodwill San Antonio and programs like AbilityOne. Overcoming considerable obstacles, Eddie's journey paints a vivid picture of resilience and the life-changing power of opportunity and support.
Eddie's life before his involvement with Goodwill Business Services was marked by hardship and aimlessness.
"Before Goodwill, I wasn't doing anything, I was just out there," he admits.
Homelessness and heartache cast a shadow over his life, leaving him desperately seeking stability.
The birth of his daughter, Eddie Love, ignited his determination to build a better life for his family.
However, the path from struggle to stability is rarely straightforward. Many individuals facing obstacles like homelessness and the responsibilities of parenthood find themselves trapped in a cycle that is difficult to escape. This is where organizations like Goodwill and programs like AbilityOne step in, offering a meaningful solution.
While living at Haven for Hope, Eddie was introduced to Goodwill San Antonio's Good Careers Center. This marked the beginning of his remarkable transformation. Learning about Goodwill Business Services' partnership with AbilityOne, a program designed to provide employment opportunities for individuals with disabilities, Eddie found a lifeline. This initiative recognizes  overcoming significant life barriers requires more than just a job; it requires a comprehensive approach that addresses the holistic needs of individuals like Eddie. Goodwill hired Eddie for an AbilityOne contract, acknowledging his endless potential and allowing him to take a leap forward to a brighter future.
"I found out that I don't have to be anything less than what I choose to be," he states.
Crediting Goodwill Business Services for giving him a second chance at life, Eddie has found stability, purpose, and a renewed sense of belonging.
Eddie has been employed with Goodwill Business Services for over 7 years, serving on the Ground Maintenance contract at Joint Base San Antonio-Fort Sam Houston. He looks forward to coming to work every single day. Thanks to Goodwill and AbilityOne, Eddie discovered the value of self-reliance and learned essential life skills that extend beyond the workplace. As his income improved, so did his communication skills and overall outlook on life.
With a clear vision of the future, Eddie aspires to continue advancing his career and be a beacon of positivity for newcomers to the organization.
"My goals are to be a good father, continue taking leadership classes offered through Goodwill San Antonio, and keep learning every day," he shares.
Goodwill's and AbilityOne's commitment to holistic change has not only transformed Eddie's life, but also empowered him to shape a future full of promise. Eddie's story is a reminder that in the face of adversity, a determined spirit coupled with meaningful support can pave the way for triumph.
To learn more about the AbilityOne program, visit AbilityOne.gov.