Operational & Recognition Videos
OUR BUSINESS SOLUTIONS IN ACTION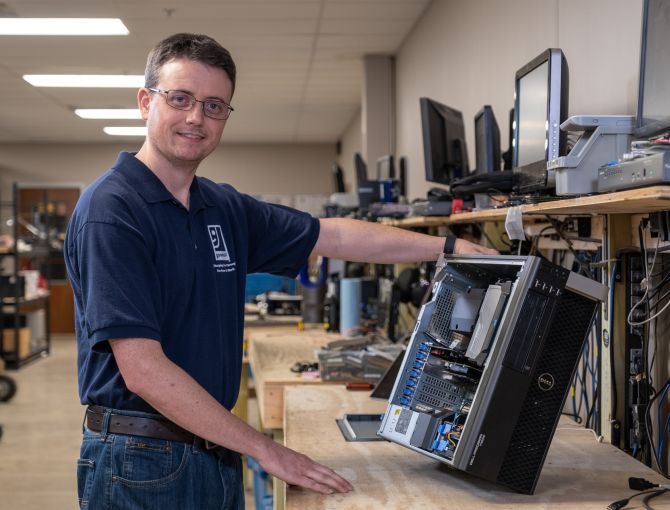 Click the Title of the Video to See Goodwill Business Services in Action.
Note: clicking the title will open a YouTube link in a new window. 
Goodwill Business Services 
Goodwill San Antonio Business Services hires and supports veterans because it is the right thing to do. It is a way to give back to those who have given much to our country.
---
Electronics Recycling and ITAD
Through its partnership with ReStore Ed, Goodwill San Antonio Business Services repurposes donated laptops and provides them to students and others in need in our community.  
The Goodwill Electronics Recovery Program offers secure data services, such as hard drive destruction and data sanitization to companies adhering to strict environmental and data security requirements of all donated electronics. Watch as a hard drive is shredded.  
Goodwill San Antonio, the City of San Antonio, and the San Antonio Housing Authority provide SAHA's residents with the technical tools and resources needed to succeed.  
Have questions on purchasing a refurbished computer? The Goodwill Electronics Store staff produced this video to help answer commonly asked customer questions.   
What is the difference between choosing a laptop, desktop, or all-in-one computer? The Goodwill Electronics Store staff produced this video outlining the advantage of each computer type to help you determine which type best meets your needs.   
A virtual tour of the Goodwill San Antonio's Electronics recycling and IT Asset Disposition (ITAD) program, providing professional services for e-waste management, IT asset disposition, data center decommissioning, and the Technology Access Program (TAP).